Week Nineteen: Mystical Marriage
Monday 10 May 2021   Christ, Our Beloved Bridegroom
If we could glimpse the panoramic view of the biblical revelation and the Big Picture of which we are a part, we'd see how God is forever evolving human consciousness, making us ever more ready for God. The Hebrew prophets and many Catholic and Sufi mystics used words like espousal, marriage, or bride and groom to describe this phenomenon. That's what the prophet Isaiah (61:10, 62:5), many of the Psalms, the school of Paul (Ephesians 5:25–32), and the Book of Revelation (19:7–8, 21:2) mean by "preparing a bride to be ready for her husband." It has nothing to do with gender and everything to do with the human soul that is being gradually readied so that espousal and full partnership with the Divine are the final result. It's all moving toward a marriage between God and creation. Note that such salvation is a social and cosmic concept, and not just about isolated individuals "going to heaven." The church was meant to bring this corporate salvation to conscious and visible possibility.
Could divine marriage and intimacy really be God's plan? Or is this just poetic exaggeration? If this is the divine agenda, why were most of us presented with an angry deity who needed to be placated and controlled? And why would such a God even want to "marry" God's creation? I don't think I am stretching the point. Look for all the times Jesus uses a wedding banquet as his image for eternity, and how he loves to call himself "the bridegroom" (Mark 2:19–20). Why would Jesus choose such metaphors if they weren't deeply true? The very daring, seemingly impossible idea of union with God is still something we're so afraid of that most of us won't allow ourselves to even think in that direction. The Eastern Church developed this idea in their theology of divinization (theosis) much better than the Western Church, and we are all much poorer for our loss.
Only God in you will allow you to imagine such a possibility, which is precisely "the Holy Spirit planted in your heart" (Romans 8:11 and throughout Paul's letters).
Jesus came to give us the courage to trust and allow our inherent union with God, and he modeled it for us in this world. Union is not merely a place we go to later—as long as we are good. Union is the place we come from, the place we're called to live from now. At the end, the fitting conclusion of the "Second Coming of Christ" is that humanity becomes "a beautiful bride all dressed for her husband" (Revelation 21:2), with Jesus Christ as the Eternal Divine Bridegroom (Matthew 9:15; John 3:29) waiting for all of us at the altar.
The clear goal and direction of biblical revelation is toward a full, mutual indwelling. The eternal mystery of incarnation will have finally met its mark, and "the marriage feast of the Lamb will begin" (Revelation 19:7–9). History is no longer meaningless but has a promised and positive direction. This creates very healthy, happy, hopeful, and generative people, the ones we surely need right now. All I know for certain is that a good God creates and continues to create an ever-good world, by enticing it back into the place where it began.
Saint Bonaventure taught that we are each "loved by God in a particular and incomparable manner, as in the case of a bride and groom." [1] Francis and Clare of Assisi knew that the love God has for each soul is unique and made to order, which is why any "saved" person feels beloved, chosen, and even "God's favorite." Many people in the Bible also knew and experienced this specialness. Divine intimacy is always and precisely particular and made to order—and thus "intimate."
The inner knowledge of God's love is described as joy itself (see John 15:11). This inner knowing is the Indwelling Presence. Which comes first? Does feeling safe and held by God allow us to deal with others in the same way? Or does human tenderness allow us to imagine that God must be the same, but infinitely so? I do not suppose it really matters where we start; the important thing is that we get in on the big secret from one side or the other.
Yes, "secret," or even "hidden secret," is what writers like the Psalmist (25:14), Paul, Rumi, Hafiz, Bonaventure, Dame Julian, and many mystics called it. And for some sad reason, it seems to be a well-kept secret. Jesus praises God for "hiding these things from the learned and the clever and revealing them only to the little ones" (Matthew 11:25). Well, what is it that the learned and the clever often cannot see?
The big and hidden secret is this: an infinite God seeks and desires intimacy with the human soul. Once we experience such intimacy, only the intimate language of lovers describes the experience for us: mystery, tenderness, singularity, specialness, changing the rules "for me," nakedness, risk, ecstasy, incessant longing, and of course also, necessary suffering. This is the mystical vocabulary of the saints. Saint Teresa of Ávila (1515–1582) puts it beautifully:
Who could explain the benefit that lies in throwing ourselves into the arms of this Lord of ours and making an agreement with His Majesty that I look at my Beloved and my Beloved at me . . . . Let Him kiss me with the kiss of His mouth, for without You, what am I, Lord? If I am not close to You, what am I worth? If I stray a little from Your Majesty, where will I end up? Oh, my Lord, my Mercy, and my Good! And what greater good could I want in this life than to be so close to You, that there be no division between You and me? With this companionship, what can be difficult? What can one not undertake for You, being so closely joined? [2]
[1] Bonaventure, "Breviloquium," part 5, 1.5, in Works of St. Bonaventure, vol. 9, trans. Dominic V. Monti (Franciscan Institute Publications: 2005), 172.
[2] Teresa of Ávila, "Meditations on the Song of Songs," 4.8,9, in The Collected Works of St. Teresa of Avila, vol. 2, trans, Kieran Kavanaugh and Otilio Rodriguez (ICS Publications: 1980), 246.
Adapted from Richard Rohr: Essential Teachings on Love, ed. Joelle Chase and Judy Traeger (Orbis Books: 2018), 35–36
Image credit: Chaokun Wang, swan 天鹅 (detail), 2017, photograph, Wikiart.
Image inspiration: The lines, curves and graceful beauty of the swan on water guide us into awe. Wouldn't that be how one would respond to the presence of a beloved? God, the beloved. We, the beloved.
Loving God, you fill all things with a fullness and hope that we can never comprehend. Thank you for leading us into a time where more of reality is being unveiled for us all to see. We pray that you will take away our natural temptation for cynicism, denial, fear and despair. Help us have the courage to awaken to greater truth, greater humility, and greater care for one another. May we place our hope in what matters and what lasts, trusting in your eternal presence and love. Listen to our hearts' longings for the healing of our suffering world. Please add your own intentions . . . Knowing, good God, you are hearing us better than we are speaking, we offer these prayers in all the holy names of God. Amen.
Listen to Father Richard pray this prayer aloud.
Having experienced profound mystical experiences, I felt frightened and alone. As time passed, I began to understand that I was on the mystics path, and was not alone. Friar Richard Rohr has served as a beacon of light for me. I find great joy in knowing that I am not alone, but am holding the mystic path with many other souls, as we work together bringing forth the Christ consciousness of unity.
—Ruth B.H.
Share your own story with us.
A Monthly Newsletter from the Center for Action and Contemplation
Every Thing is Sacred: A Live Broadcast with Richard Rohr and Patrick Boland
Without a sense of the inherent sacredness of the world, we struggle to see God in our own reality, let alone to respect reality, protect it, or love it. — Richard Rohr
See Christ at the heart of all things in a special virtual gathering on May 15, 2021, at 10 a.m. MT with Richard Rohr and Patrick Boland. Following the release of their book, Every Thing is Sacred, RIchard and Patrick dive deep into the most profound messages and practices from Richard's bestselling book The Universal Christ and invite readers and listeners for a special question and response session.
Love. Period., a New Podcast with Jacqui Lewis
Radical change requires radical love. When we put our own needs second, and join the love revolution, then will we find ourselves in God's Kingdom.
— Rev. Jacqui Lewis
How do we stand in love and faith in the midst of injustice? Starting early May, join Rev. Dr. Jacqui Lewis for Love. Period., a new podcast that advocates a fresh view of spirituality—a grown-up, inter-religious, universal view that speaks across race, gender, sexuality and generations. In conversation with special guests like CAC friends Rev. Dr. William Barber, Barbara Brown Taylor, and Rev. angel Kyodo williams, Jacqui invites us to experience faith as the practice of fierce love that heals the soul and the world.
Subscribe now to Love. Period. on your favorite podcast platform:
Apple | Google | Stitcher | RadioPublic | TuneIn
Explore the Spiritual Impact of Trauma in the New Edition of ONEING
We never outgrow the need to be held in steadfast compassionate love. 
—Sally A. Howard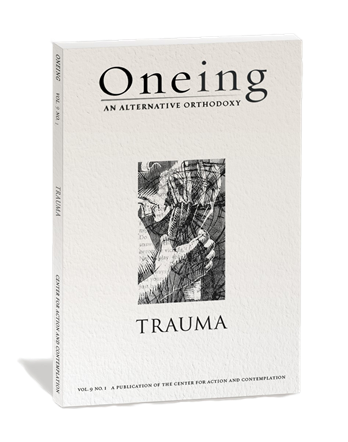 How do we survive—and thrive—after unspeakable pain and terror? In this new edition of ONEING, poets and writers reflect on the spiritual impact of trauma—as experienced by individuals and communities. In this series of poignant pieces, readers can connect with the wounded piece of their own souls, and ultimately feel renewed and hopeful in the struggle for mental and spiritual peace.
ONEING is the biannual journal of the Center for Action and Contemplation. Renowned for its diverse and deep exploration of mysticism and culture, ONEING is grounded in Richard Rohr's teachings and wisdom lineage. Each issue features a themed collection of thoughtfully curated essays and critical perspectives from spiritual teachers, activists, modern mystics, and prophets of all religions.
Order the paperback edition or the downloadable PDF
Enter the Seven Mansions of the Interior Castle
Uncover the map of your soul in James Finley and Mirabai Starr's online course Interior Castle. Based on the St Teresa of Avila's spiritual text of the same name, this course invites us to experience how prayer, reflection, and self-knowledge turn spiritual insights into true wisdom.
Learn more about the Interior Castle
Time commitment: 4–6 hours a week
Registration ends May 26, 2021
Course runs June 2–July 27, 2021
Cynthia Bourgeault teaches The Divine Exchange
How do we put on the mind of Christ? How do we learn to respond to the world with that same wholeness and healing love? —Cynthia Bourgeault
A longtime teacher of Christian wisdom, Cynthia Bourgeault offers the gift of one of her core metaphysical frameworks in this intimate online course, The Divine Exchange. Giving and receiving is essential to the human experience. As we exchange information, goods, energy, sustenance—how do we also connect more deeply to the divine? Join students across the world and discover the divine energy flowing in the simplest of interactions.
Learn more about The Divine Exchange
Time commitment: 4–6 hours a week
Registration ends June 9, 2021
Course runs June 16–September 21, 2021
Suggested Prerequisites: Introductory Wisdom School or a Wisdom School (virtual or in person) with Cynthia.
Free Lectio Divina Practices for National Poetry Month
For the last year, CAC staff have had the honor of reading stories of transformation submitted by our Daily Meditations subscribers. These are people like you—like all of us—modern mystics walking the contemplative path, through the transformative experiences that Fr. Richard calls great love or great suffering.
In honor of National Poetry Month, we invited our social followers to practice lectio divina (sacred reading) with some of the poetry sent by our contemplative community. From navigating a changing faith to standing in solidarity with suffering, these poems are just a small sample of the beautiful diversity in our spiritual journeys.
Explore these practices on Facebook
Update on the 2021 Living School Application Process
After an extensive deliberation process that included feedback from faculty, current students, and alumni, we have decided to temporarily pause the Living School application process until 2022. This will not impact current students.
While our school continues to be a transformational experience, this pause creates a contemplative space for our team to explore all the ways we might deepen engagement and expand what's possible at The Living School.
Although we will miss welcoming a 2024 cohort, we're excited for the opportunity to reflect, learn, and grow as a team. It's an honor to share the Christian contemplative tradition through the school and look forward to seeing where the Spirit will lead us as we continue to evolve.
Reader Favorites:
Richard Rohr's Daily Meditations
Find additional meditations by Father Richard in the online archive.
Join now for daily or weekly emails.
………………………………………………………………………………………….
Copyright © 2011 Center for Action and Contemplation
1705 Five Points Rd SW, Albuquerque, NM 87105 (physical) PO Box 12464, Albuquerque, NM 87195-2464 (mailing)